Most of us who are politically-minded have done the Political Compass test (
link
). Some of us have done it numerous times. (Some of us are keeping score in what appears to be an attempt to cover as much of the board as possible…)There is an oddity about British politics, and I suspect most other politics as well, which it highlights. I'd like to point it out and then suggest that this oddity should push us towards a re-orienting of the axes: my mathematical training showing, although I shall try to avoid using words like 'metric', 'non-linear' and 'vector space'. Here's the oddity, first of all: the Political Compass team's assessment of the three main British parties over the last few decades: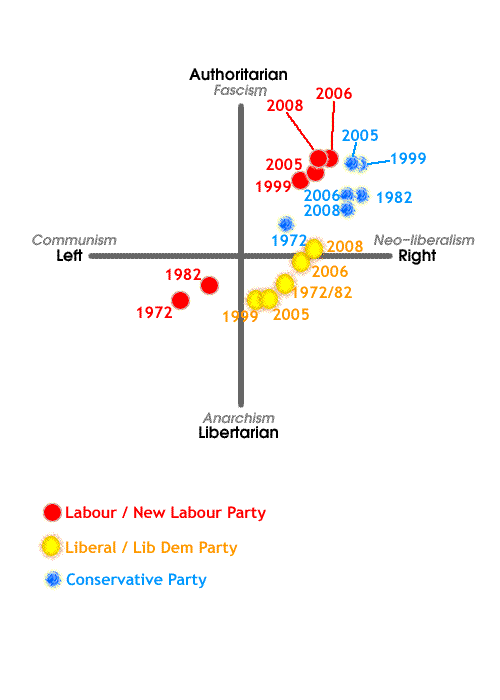 Can you see the lines of correlation there? It is as though the parties are playing a trade-off game between how far down the spectrum they go and how far right: you can't have too much of either. This is an oddity indeed, and leads me to suggest the following: that the
real
political axes actually look more like the image below.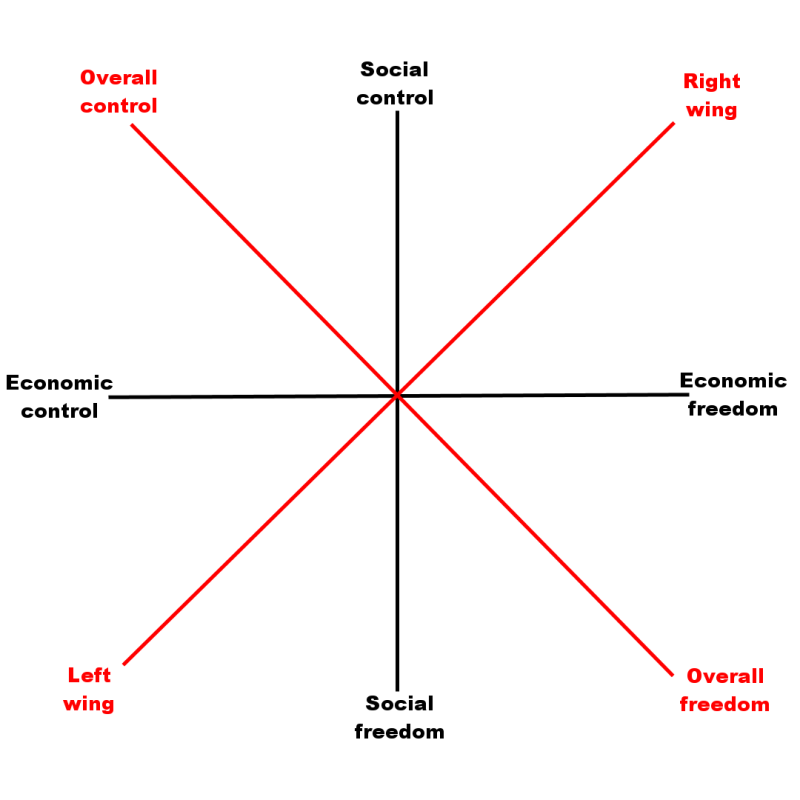 In other words, parties — perhaps this is even a function of countries' political cultures — operate at around the same level of overall control or freedom, but the way that freedom gets spread around differs. And as parties evolve and move between 'left' and 'right', they often simply trade economic and social freedoms off against each other. So if from your total envelope of freedom, you allot more to social freedoms and less to economic freedoms, you are more left-wing; if the reverse, you are more right-wing. If you have a bigger envelope of freedom, you are more liberal (in the classical sense of the word); if you have a smaller envelope, you are more illiberal.Now, that diagram isn't intended to suggest that I'm putting numbers on this, or claiming that I can identify people of different persuasions who believe in roughly the same overall level of liberty. Even the fact that those red lines are straight is misleading: every bit as misleading as the fact that the black lines are! But behind the fact that the underlying geometric space is not linear (sorry, I tried), the basic idea is clear: that the two variables in politics are how much freedom you believe in, and where you put the balance.
The last time I did this test was the end of this September, and I scored something which put me as being relatively liberal and slightly left-leaning (you can click on the picture for a bigger version). I think my economic score should have been much further to the right than that (
e.g.
), which can only make me even more liberal and a moderate right-winger.Returning to the first image we saw, the Political Compass test shows us that all three main parties in the UK are pretty illiberal, and the reality is that British elections could be seen, without much cynicism, as voting between arsenic and strychnine.