One thing I didn't mention in my last post, about Glover, was his treatment of liberty and equality as a strict trade-off. I don't, in fact, believe that this is entirely true. The following graph is an illustration, not intended to be taken literally, of the model I have in my head.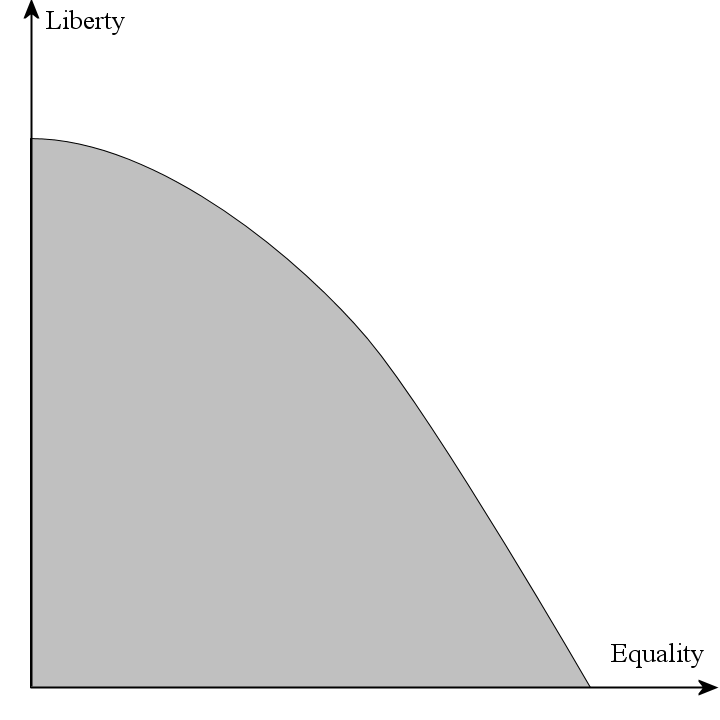 The grey area is where the sum total of government policies can land us: if you like, the 'available policy space'. This shifts all the time because of various developments in society, and tweaking one small policy could have a large effect: this is not meant to be a mathematical model in any sense!Still, I hope it helps to explain what I'm thinking of. You can see that I conceive of an 'efficient frontier' between liberty and equality, beyond which we can't go. At that frontier, liberty and equality are in trade-off. Within that boundary, it becomes possible to increase both liberty and equality. It may not, of course, be desirable to increase equality: as I said in my previous post, complete equality isn't just unobtainable, it's also undesirable. I struggle more to think of conditions under which it may be undesirable,
c.p.
, to increase liberty.So the technocratic question in politics is how to get to the efficient frontier. The ideological question is where we want to be along that curve.Of course, Labour has shown itself to be quite unconcerned about both liberty and efficiency, so my impression is that we are probably quite some distance from that efficient frontier. In other words, if I am right it should be quite possible
from where we are
to increase liberty without increasing inequality, or equivalently to increase equality without decreasing liberty. Trust Labour, though, to find all the ways of decreasing liberty.